Do-it-Yourself Dog Washing
Giving your pet a bath at home means clogged drains, dirty tubs, and an aching back. At The Good Dog Shoppe, we eliminate the mess and stress with our self-service dog wash in Kennesaw, GA. Our elevated bathtubs accommodate pets as small as a Shih Tzu, and as big as a German Shepherd. Call (770) 919-0333 with any questions about do-it-yourself pet wash add-ons including shampoos, and conditioners. Our welcoming, experienced crew are glad to address any questions you may have.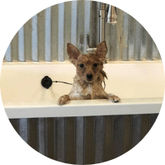 Self-Service Dog Wash
Our self-service dog wash permits you to stand in comfort at the dog washing station, and we provide all the things needed to give your dog a professional wash.
No scheduled time needed. The last bath is 1-hour prior to closing time. We are open today until 7:00 PM.

Dog Laundry
You take away a spotless dog, and our staff tend to the mess and laundry.
What Kennesaw Customers Are Saying
We love our customers from Kennesaw areas around Country Creek, Kennesaw, Owens Meadows, Big Shanty Hills, Abington Green, Arden Lake, Hickory Forest, Parkwood Commons
Come visit our pet supply store in Kennesaw, GA specializing in quality food, treats, and supplies for cats and dogs.